During the Kisii Fistula Camp, we met a 62 year old Rachel Wanjiku who comes from Busia district and has lived with fistula for 45 years. This is her story:
We lived with our parents in Nyandarua and when my parents died I decided as the first born to relocate with my siblings to Eldoret. Its then that I became pregnant in 1967 and I labored at home for 3 days. When I couldn't  deliver, they referred me to hospital and I also stayed another day before operation and was told it's too late my child had already passed on. Its then that I got fistula.
I later got married with my condition and my husband was very loving and understanding .In 1980 I delivered my second child a boy and he survived although he was sick last year and passed on ,am glad he left me with a grandchild. My husband never really wanted me to work and restricted me to only light duties to ensure safe pregnancy. Unfortunately I have delivered 10 children and none is alive "this really affected me and I always wondered what was wrong with me, I have leaked urine almost all my life and have no children or husband", Wanjiku moved to tears.
My life turned its back on me in 1992 after 17 years of marriage. This was during the tribal clashes that erupted in Eldoret between Kikuyu and Kalenjin.  Before we fled my husband told me we part ways and that he was going back home to Murang'a his home. He told me "I am tired of having grave yards in my home, I am done…." this hurt me so much because it was not my fault that the children passed on. I later learnt that he got married but passed on a few years later.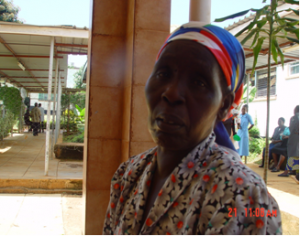 I decided to leave and go to Busia since there was nothing left for me here, and my cousin offered me shelter and my son had a chance to go to school there. What gave me courage to move on were my family members who were always there for me to encourage and comfort me "they never gave up on me".
I learnt about this camp from a friend of mine who had taken the child for a cleft lip surgery at Alupe hospital by Amref Outreach. When I went there I was requested to travel to Kisii for this camp and am glad I received care here. I had hope because of the support I received from brethren from my church, they even gave me fare to travel to Kisii and have been calling everyday to ask how am fairing on. "I can't wait to go back; this is a miracle that I am no longer leaking, it's like a dream that I can wake up on a dry bed without leaking…" I am so grateful beyond words for the help you have give me "I wish my late loving husband was alive to see this…" May God preserve you all and bless you for the support you have given to us.