Two days ago, we spoke to Melvin Nyamao about her journey with vesicovaginal fistula (VVF). All through her days at the Kenyatta National Hospital where the free medical camp  –supported by among others Flying Doctors Society of Africa, KNH, Freedom from Fistula Foundation and Citizen Television, there was the notable presence of one man –Melvin's husband Eric Otieno. We caught up with Eric on the day after her surgery, where he talked to us about the journey that has been for the couple since Melvin  developed fistula ten years ago following the birth of their first child.
When 34 year-old Eric Otieno became a father for the first time ten years ago, he was over himself with joy.
"I felt proud to be a father, and was even more proud of my wife Melvin for bringing forth our beautiful son," he recalls of the day in 2004.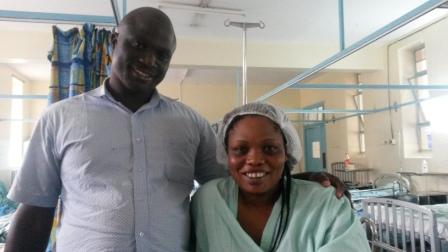 However, his joy soon changed into concern when about a month later, Eric noticed that his newborn was using diapers at an alarming rate. Worried, he asked his wife about it fearing his son had a medical problem. It was only then that his wife made a startling revelation.
"My wife told me she had been using some of our son's diapers since she had been leaking urine ever since the birth. She had been too embarrassed to disclose this to me," he says.
Eric, a clerk at a bus company and his wife, a businesswoman and who are both based in Mombasa in Kenya's Coast province, had never heard of the condition where a woman leaks urine after a birth. Even though it perturbed them for months and years, they never sought treatment for it.
"I kept thinking that maybe it was an experience that women who have given birth go through. I thought that all mothers who had delivered naturally leaked urine as well, only that we all didn't talk about it," says Melvin.
Eric admits that sexual relations between them became strained due to his wife's unrestricted urine flow.
"It is very hard to have enjoyable sex when your partner leaks urine and has this lingering smell of the same. Aside from that, it affected her so much that it dented her self-esteem. Each time I suggested sex, she would never be in the mood and would always sarcastically ask if I've forgotten that she has a problem. She was always conscious and defensive about it. Approaching her became difficult until I eventually stopped making advances as I always felt I was pestering her," he says.
His wife concurs, saying that sex was a 'complicated' matter as she never felt comfortable getting intimate with her husband.
Aside from that, Eric says his wife always associated any little disagreement between them to her urine condition.
"Whenever we had our normal arguments just as any other couple does, she would retort that I'm being unfair to her just because of her urine problem," he says.
That notwithstanding, the couple went on to have another child in 2012. However, Melvin remained miserable because the leaking urine continued.
"I have always shared diapers with my children. When they outgrow the diapers, they leave me using them. It can emotionally crush even the strongest of persons," she says, adding that she would go through about five diapers in a day. She thanks her husband for always ensuring that she never once ran out of supply in those ten years.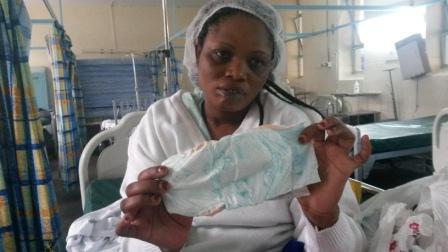 One evening in July 2014 as the couple was having dinner together, they happened to catch a glimpse of a clip on Citizen Television calling on women who leaked urine or faeces to make their way to Kenyatta National Hospital for free treatment.
"We were excited because we knew our redemption had finally come. We wasted no time in travelling to Nairobi, where we arrived on 14 July 2014," he says.
While Melvin closed her boutique business to allow her to travel, Eric took some days off to be with his wife in Nairobi. At the KNH camp, the couple joined hundreds of women with a similar condition.
"We were seated at the parking lot of Clinic 66 in a tent together with other women. As I looked around, I noticed I was the only man. As we waited to be served, there was a nurse requesting women to openly about their experiences. Concerned about being the only male listening in on 'women's issues', but yet wanting to be by my wife's side, I asked one of the nurses if it was okay for me to stay on or whether I should leave. She told me that I was more than welcome to stay and actually commended me for my patience and commitment to my wife," he says.
After screening, the couple were asked to return on 22 July 2014. Once again, Eric took leave from work to be by his wife's side.
"There was no way I was going to leave her to go through this experience alone. I feel as though I myself have been having fistula too for the last ten years. It has been a difficult journey for us and I purposed to walk with her through to the end," he says.
Her day for surgery finally arrived, on the evening of 24 July 2014. On that day, Eric left the hospital at 11pm after ensuring that she had come out of the theatre and was recovering well.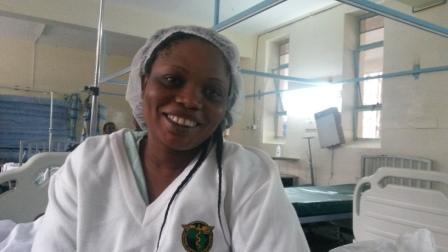 And as she recovers for the next ten days, he, once again, is by her bedside. He is a familiar face at Ward 42 and Ward 1B (the recovery ward), where he spends his days chatting freely with the nurses as he keeps his wife company.
"Melvin is my wife and the mother of my children, so why I desert her when she needs me most? Besides, it's been ten years of struggle, so what is just a few days in hospital?"
Eric says that despite the challenges encountered in the last decade, he never once thought of leaving his wife.
"I grew up watching my father treat my mother so well and I vowed to treat my wife the same way. Aside from that, Melvin is a hardworking lady who I admire, so I really have no reason to leave her. And incase I left her and married another woman who similarly developed fistula, would I leave her to marry yet another one? How many women would I then end up marrying?"
Following the surgery, the couple is hopeful that life will now be different.
"I think she will have a raised self esteem, and stop tagging everything to her urine leaks. It is also good to know that we will now be able to enjoy our sex life again, even though we have to wait for six months," he says.
On her part, Melvin says that the best thing will be that she no longer has to wear diapers all day and all night long.
"I am very excited, and I cannot believe this is true. I keep looking down to see if I have any diaper on, imagining that I am dreaming. But it is not a dream, I am actually not leaking urine! I will now be able to relate better with my husband, and I will start visiting my friends again. Thank you Flying Doctors and the rest of the team for the service you have given me. You have no idea how my life and that of my family will change after this," she says.