The free fistula medical camp taking place at Kenyatta National Hospital (KNH) with the support of among others; the Flying Doctor's Society of Africa (FDSA), Freedom from Fistula Foundation, KNH and Citizen Television has come to a successful close.
"It was a very successful camp and we are glad to have helped facilitate the fistula repair of women from across the country who have been living with the stigma and shame of fistula for years," says Tanya Nduati, the FDSA Chief Executive Officer.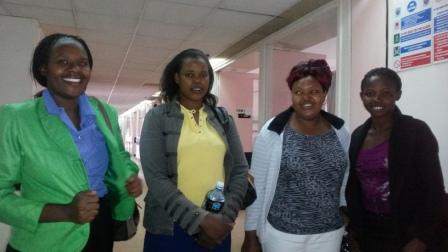 Photo: Some of the beneficiaries of the July 2014 free fistula camp at KNH. 
Tanya reveals that over 1,300 women were screened, and a total of 161 fistula repair surgeries performed during the camp which began on 4 July and concluded on 25 July 2014. The camp also saw 200 women with urine incontinence get physiotherapy.
Among the beneficiaries of the camp is seventeen year-old Lovina Okwara from Teso, who has been living with fistula for the last four years after she gave birth to her daughter.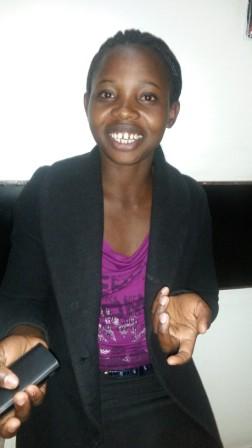 Photo: a happy Lovina Okwara two weeks after her repair surgery. 
"I feel like a totally different person, and I am glad my life will resume its normalcy," said a beaming Lovina on the day she had gone back to the hospital for a check-up. During the visit, she also met with other women who had undergone surgery and were recovering well. Together, the ladies took time to encourage other women who were fresh from surgery and recuperating.
"We are here to encourage them and let them know that it is possible to get their lives back again," said Lincy Chelpkemoi who had been living with fistula for eight years.
"I am healed of my fistula and I cannot express my joy. Thanks to you all," she told Tanya Nduati and the nursing officers at Ward 1B who nursed them back to good health.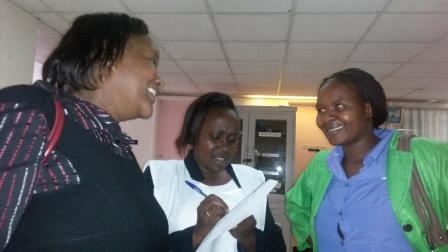 Tanya Nduati (left) having a chat with Lincy Chepkemoi (right), one of the beneficiaries of the repair surgery as nurse Stella takes medical notes. 
The next  fistula free medical camp takes place in Eastern province, at the Embu Level 5 Hospital from 11 – 15 August 2014.