In the ongoing free Fistula Medical Camp at the Kenyatta National Hospital, women's lives are being transformed. The camp is being done in collaboration with various partners, among them the Flying Doctors Society of Africa, Kenyatta National Hospital, the Freedom from Fistula Foundation and Citizen Television.
One of those whose life is just about to be transformed is Melvin Nyamao Barongo, who has traveled all the way from Mombasa where she is based. We talked to Melvin on the eve of her surgery, and she shared with us her ten-year journey with vesicovaginal fistula (VVF), and her expectations after the surgery.
We find Melvin seated on her bed in Ward 42 at Kenyatta National Hospital, a ward she shares with over forty other women. Melvin has her eyes constantly fixed at the nurse's station, which is at the ward's entrance. Melvin is yearning for the moment the nurses will walk up to her and say:  'It's your turn now for theatre' just as they have been doing to other women who have gone before her.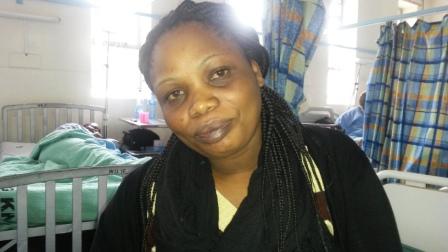 Melvin has been at KNH's Ward 42 –the (emergency) ward that has currently been set aside for fistula patients for the last two days. She awaits her turn to be wheeled into theatre for the surgery that will change her life forever. The 34 year-old has been living with vesicovaginal fistula (VVF) for the last ten years. She tells us how it all began:
"It all started after the birth of my first child in 2004. I was in labor for two days before I finally delivered in hospital," she remembers.
Upon returning home with her bouncing baby boy, Melvin however noticed that she was unable to hold in urine, something she had never experienced before. Even though it troubled her deeply, she dared not confide in anyone about it.
"I kept it to myself because I was very embarrassed. And even if I would have wanted to confide in somebody, I wondered who, because my mom is not around, and it would have been uncomfortable to share such shameful details with mother-in-law. My identical twin sister with whom I am very close had delivered via caesarean section, so she would not possibly understand," she remembers.
Melvin says her husband eventually found out about her leaking urine about a month later after he noticed that the diapers he was buying for his son were getting used up fast. It afterwards became a shared secret between the couple.
"It was only when my son was five years old that I eventually decided to go to hospital when it became too much," she remembers.
There, Melvin was taught how to do physical exercises which the nurses said would alleviate the leaking urine problem.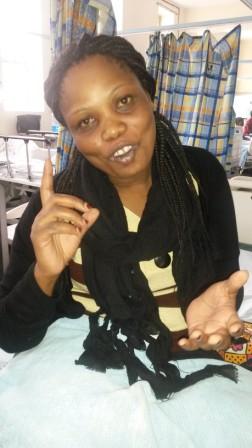 In 2012, Melvin delivered her second son. While at the hospital, she did not disclose the leaking urine problem to the nurses because she did not think it necessary.
"I had come to convince myself that all mothers who had delivered naturally similarly leaked urine. I thought they we were all suffering in silence because none of us would dare share with each other," she says.
Melvin has been wearing diapers for the last ten years. Her husband has supported her all through, though at some point they had serious marital challenges because of her leaking urine.
"Having enjoyable sex when you are leaking and smelling of urine is difficult. When sex is not enjoyable in a marriage, then the problem spills over to other issues. This indirectly was the source of many problems between my husband and I," she says.
The urine leaks also affected her social life.
"I stopped visiting my friends because I feared that I would accidentally stain their seats –even though I was wearing a diaper," she says.
One day in July 2014 when Melvin and her husband were having dinner while watching television, they chanced on some information on Citizen Television urging women who leak urine or feaces to attend a free fistula camp in Nairobi at the Kenyatta National Hospital.
"We could not believe it. Excited at the news, we agreed to travel to Nairobi at the earliest opportunity to seek treatment," she remembers.
The couple travelled to Nairobi on 14 July and after screening, were asked to return on 21 July. Today, Melvin awaits her surgery with bated breath.
"After ten agonizing years, my life will finally start afresh. I can't wait for the nurses to approach me and tell me: "Melvin, it's your turn now'. I can't believe that diapers will be a thing of the past. I will finally be able to live my life again, which I feel has been stagnant for the last decade," she says.
*Melvin is due for surgery on 24 July 2014.