On one cold Friday evening in July, we meet 81 year-old Beatrice Wambui at the Kenyatta National Hospital. The elderly mother of three hails from Gatundu South, a constituency in Kiambu County, Central Kenya.
We find Beatrice seated on her bed, sipping a hot mug of brown porridge. But seeing her mother comfortably sip on the porridge is something that her 40 year-old daughter Tabitha cannot stop marveling about. The strangeness of it all is that ever since she was born, Tabitha has always known her mother to avoid all liquids, especially when away from her house. As she sits at the feet of her mother's hospital bed, she stares at her mother as she takes in each sip and tells her: "Mom, you truly are a different person now." Her mother, over the last few days, has been wearing a permanent smile on her face and carrying around a rejuvenated personality. Tabitha is amazed at her mother's new-found confidence. And it can all be credited to one surgery.
40 years ago, Beatrice gave birth to her lastborn child Tabitha in what she describes as a 'difficult birth' caused by a labor that went on for days on end. For the third time, Beatrice was giving birth at home, with the assistance of a neighbour. She had never been to an antenatal clinic and had never been attended to by a skilled birth attendant. As she carried her third pregnancy with Tabitha, she did not see the need to deliver in a hospital because all her previous pregnancies and births had been smooth with no complications whatsoever.
But the third birth did not go as expected. The labor was too long and she was in too much pain. Thankfully though, her bouncing baby girl –Tabitha, arrived happy and healthy. But not long after, the new mother notice that something was amiss. As she drank mugs of porridge and soup –liquids that new mothers are encouraged to consume, she noticed that she was unable to control her urine.
"I would wake up from my seat and find that my clothes were wet, and so was the area where I had been seated. I was perturbed because I knew it was related to the birth, but yet it was unfamiliar since I had not experienced anything like that in my previous births," she told us.
But she did not think of seeking medical help. The then 41 year-old had been widowed during her pregnancy with Tabitha and with three children to look after, the peasant farmer's thoughts were preoccupied with fending for them, and not making long trips to the hospital just because of a 'leaking urine issue' which she knew would not last for long.
But days, weeks and months went by, with her urine flowing unstopped. She had to make some adjustments in her life.
"I stopped taking liquids so that I could urinate on myself less frequently. I would only take liquids when I was in the comfort of my own home. Since I never used to put on anything other than a panty and the dress I was wearing, many times the urine would slip through, trickle down to my legs and onto the floor, leaving little pools of wetness. I therefore avoided places where people were gathered. I stopped attending functions such as family gatherings and weddings since I was too embarrassed and worse, I carried with me a foul smell," she remembers.
And that was a life she lived for 41 years, until July 2015.
Through a relative of hers, Beatrice came to know about a free fistula camp organized by the Flying Doctors Society of East Africa and the Freedom from Fistula Foundation. Accompanied by her daughter Tabitha, she made her way to Kenyatta National Hospital for the screening process and was delighted when she was informed that she would undergo a surgical procedure which would see her no longer leak urine.
When we met the beaming 'cucu' on that Friday evening, she had just undergone a successful surgery performed by a team of specialist doctors, who repaired her vesico-vaginal fistula (VVF). Beatrice was one of the 12 women from Kiambu country whose fistulas were successfully repaired. A total of 208 women underwent repair surgeries during the 2015 free fistula medical camp at Kenyatta National Hospital.
As she sat up to receive us, Beatrice was upbeat, displayed in her delight as she happily sipped on her hot mug of porridge –the countless one that day –with no inhibitions whatsoever. Watching her mother do so touched a soft spot in Tabitha's heart, one that made her struggle to conceal her tears. Indeed, her mother had indeed gotten a new lease of life.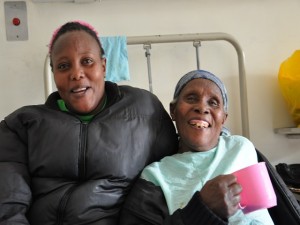 As the mother and daughter pair bade us goodbye, Beatrice informed us of her plans upon leaving the hospital.
"I am now looking forward to attending family gatherings and all those other functions that I have missed out on for the last 41 years. Thank you very much to the team of doctor and all those other donors who have helped me start my life afresh!"
Story by Maryanne Waweru-Wanyama.