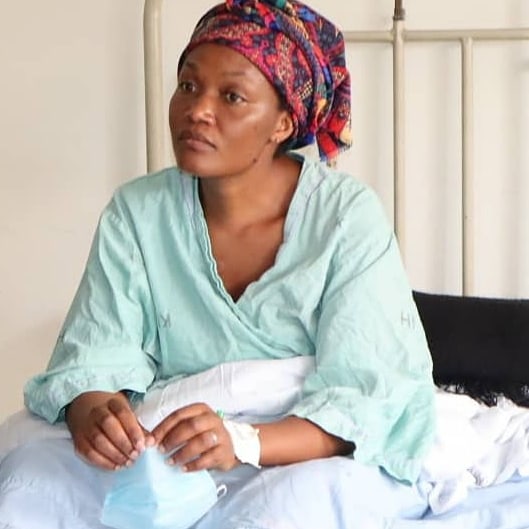 Marie is a very strong and outspoken 34-year-old mother of two. When we approach her for the interview, we find her talking to younger mothers in the ward. She is a staunch Christian and attributes her strength to persevere through fistula and receiving free treatment to God.
Marie has been suffering from fistula since June 2019. She had been living a difficult life until she received help through the Flying Doctors Society of Africa. Marie did not know she had a problem until two months after delivery. She would often pass gas through her vagina and only thought of sharing the problem with her mother after another two months. Her mother told her that she was passing gas because she was not eating well. On hearing this, her church members began cooking and delivering food to her, but, of course, the problem did not go away.
Her husband began mistreating and hurling insults at her. "Our marriage was already sailing through troubled waters, but things got worse when I became unwell. He refused to talk to me or even eat the food I cooked. He would only speak to me when he wanted his conjugal rights fulfilled." Marie states bitterly. She says that during this time her then 7-year-old daughter would console her and tell her that everything was going to be okay.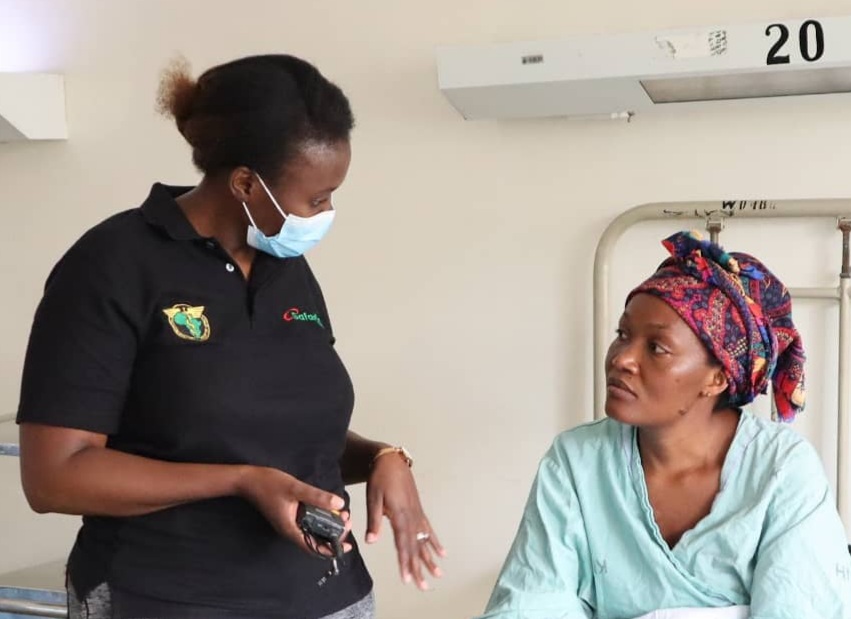 Marie's husband refused to get her any medical assistance or provide for any of her needs. She had tried to get her family members to intervene, but it had all been in vain. Being a housewife, she did not have any source of income to cater for her medical needs. She also could not get any employment because of her condition. "Who will employ me while I constantly pass gas?" She asked. She first shared her problem openly with her spiritual mother in February 2021. Her biological mother had suggested that she waits for COVID-19 restrictions to ease, after which she could travel to Rwanda to seek medical assistance. In Rwanda, H.E. First Lady Jeannette Kagame has a programme that assists women with fistula.
While waiting for COVID restrictions to ease, Marie began experiencing incontinence. This was in April 2021 and she knew she needed to act fast. She was not ready to continue living in the hell that her marital home had become neither could she afford diapers which would be necessary if the problem persisted. Her spiritual mother encouraged her to go to Kenyatta Hospital to seek medical help. The church would cater for the medical expenses. She began going for clinical visits on 10th May unaware that there was a medical camp for fistula patients.  There were several medical tests required which she could not afford. She tried to reach out to her husband's family for financial assistance, but her begging calls fell on deaf ears.
While attending the medical clinics she had to leave her children at home with their father who was not the best caregiver. Getting back home to hungry, dirty and crying children was not uncommon. Her eldest child even missed school on several occasions. She was constantly worried about the well-being of her children while she received treatment.
When she learnt about the medical camp a week after first attending the clinic she was elated. She ensured that she arrived on time for admission to the program. Lucky for her, her spiritual mother took her children in for the duration that she was in hospital for the surgery.
She looks forward to resuming a normal life and is grateful to Safaricom Foundation and Flying Doctors for the assistance she was accorded. She is further looking forward to getting a job and supporting herself and her children. She states that a problem shared is a problem half solved. She urges other women to speak out often and share their challenges; they never know who could be their source of help.