When 24 year-old Trizah Okal welcomed her first baby in March this year, she was delighted at the new chapter of her life.
"I was so excited to hold my son in my arms. It has been a relatively smooth pregnancy and I was grateful for the positive outcome –a bouncing baby boy," she says.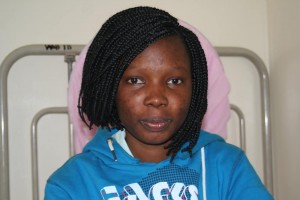 But the delivery had not been an easy one. Trizah had endured a painful 12-hour labor ordeal and after delivery, she remembers the nurse telling her that she had undergone 'a serious tear that needed to be repaired'.
"I didn't understand what that meant, but I told her to go right ahead."
Trizah was then discharged and asked to return after a month for checkup.
"When I went back to see the doctor a month later, he checked me and said that I had indeed gotten a bad tear during delivery and unfortunately, it had not been properly repaired. He told me that I had developed a fistula as a result."
As the doctor explained more about the fistula, Trizah began making sense of some of the experiences she'd been having post-partum.
"After the birth of my son, I had noticed that I could no longer control my farts. They would come out loud and loose, hard as I tried to restrain them. I also noticed that I was unable to control my urine, and it would keep leaking, making me always wet," she says.
All the while, Trizah had assumed that what she was going through was normal, and that all new mothers experience the uncontrolled farting and leaking urine. In fact, when she mentioned it to some of her friends, they advised her to place a hot towel over her tummy, saying that would help control her bowel activities.
The doctor then informed Trizah that she needed to have corrective surgery to repair the fistula. However, there was a challenge. She couldn't afford the Sh100,000 she was told would be the cost for the surgery.
"I had lost my job as a reservationist in the hotel industry just a few months before. I had no money at all, and I was living with my parents. It would have been impossible for me to raise that kind of money.
She tried fundraising from her friends, but they told her that she would just have to learn to live with the condition because she would never be able to raise Sh100,000 no matter how many friends she had.
"They told me that Sh100,000 was too much to raise for a 'small condition like that', because I wasn't in pain after all. They told me that the only difficult thing about fistula would be painful sex, which I could live with because I wasn't married anyway."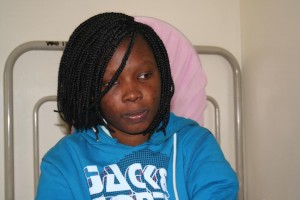 As she began to accept her condition, knowing that she would have to live with it for the rest of her life, Trizah one day chanced on an announcement in one of the local television stations –Citizen TV, calling on all women with fistula to make way to the Kenyatta National Hospital (KNH) for free fistula repair surgery.
"It was music to my ears, and I couldn't believe what I was hearing. Without wasting any time, I packed my bags and went to Kenyatta National Hospital (KNH). I went on to have the surgery and today, I can proudly say that I feel different and I know that I will be able to carry on with my life as usual. I will no longer be afraid of going out like before, because I was always scared of farting or staining seats with urine," Trizah told us, when we met her at the recovery ward at KNH the day after her surgery.
Trizah is all thanks to the Flying Doctors Society of Africa (FDSA) and the Freedom from Fistula Foundation (FFF) who made her surgery possible.
"It would have taken me years to raise that amount of money. But this is no longer the case, because of the generous contribution of FDSA and her partners to make my surgery possible. In fact, and to give back to FDSA, I have committed to become a volunteer for FDSA and I will help the organization spread the word about fistula, and mobilizing women to come for the free camp. My interaction with FDSA will certainly not end with this surgery."
Tags: